Child Life :: Music Therapy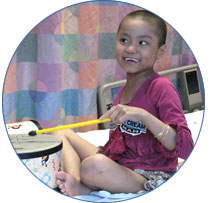 A hospital stay can be stressful for patients and their families. The Child Life department at CHOC Children's is dedicated to helping to "normalize"hospital stays with many different programs and activities for patients, like our Music Therapy Program.

Music Therapy is an established healthcare profession that uses music to address physical, emotional, cognitive and social needs of the patients.
A music therapist can create an individualized program to:
promote better health or encourage a child's focus on getting better.
manage stress.
ease pain.
express feelings or fears.
increase verbal and non-verbal communication.
help an increase in gross and fine motor movements.
Music therapy groups include:
song writing.
percussion improvisation experience.
lyrical discussions.
sing-a-long activities.
small-group performance.
relaxation.
music and movement experiences.
For more information regarding music therapy, please visit www.musictherapy.org