Child Life :: Playroom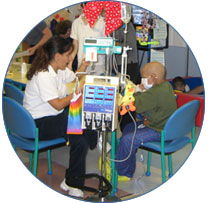 Hospitalization can be a traumatic experience for many pediatric patients and families. The Child Life department at CHOC Children's is dedicated to helping to normalize the hospital environment and enhance development during hospitalization through a variety of avenues. One such avenue is through bedside activities and the playroom.
Playrooms throughout the hospital are opened periodically throughout the day and are staffed by volunteers to help the patients and families navigate in the playroom environment. Each playroom is equipped with a variety of activities for all age groups ranging from arts and crafts, infant/toddler toys, to video games and board games. Siblings of patients are encouraged to use the playroom along with the patient however; siblings younger than age 11 must be with an adult while in the playroom.
Unfortunately, due to infection control protocols, patients and family members in isolation are not allowed in the playroom but can be provided appropriate bedside activities upon request. To ensure all our patients' safety and isolation protocols, everyone entering the playroom will be checked in by a volunteer and asked to wash their hands with alcohol gel.
Playroom Hours:
Monday – Friday
10 a.m. - noon, 2- 4 p.m., 6 - 8 p.m.
Saturday-Sunday
10 a.m. - noon p.m., 2 - 4 p.m.
***Please remember patients and families in isolation are not allowed in the playroom.