Child Life :: Art Therapy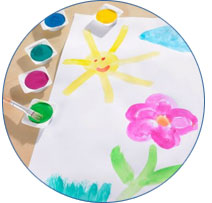 Hospitalization can be a traumatic experience for many pediatric patients and families. The Child Life department at CHOC Children's is dedicated to helping to normalize the hospital environment and enhance development during hospitalization through a variety of avenues. One such avenue is the Volunteer Art Program which strives to promote positive coping and emotional expression through art.
Currently the program is provided by Nancy Stewart. Nancy first started coming to CHOC in 2000 with bedside "art" visits for children on the Oncology/Hematology floor as part of a 10-hospital artist visiting program throughout California. She has since expanded her visits to the fourth and fifth floors and the Outpatient Infusion Clinic.
Nancy's on-going interest is in media exploration, which entails bringing several media options to offer each child a choice. Her goal is for each child to have the opportunity to make decisions and express themselves in a fun, creative way. Many of her projects expand to involve the accompanying parent or whatever guests may be in the room with the patient.
"The Many Colors of Me" is a coloring book she developed particularly for newly admitted children that encourages them to express their feelings through color. It also helps them focus on positive aspects of their life and family.