Child Life :: Pet Therapy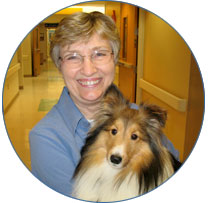 Pet therapy is a volunteer service that generates many smiles on the faces of our patients and families. Currently, our pet therapy program consists of dozens of dogs who visit the inpatient pre-opp (SSU), Clinics, Cancer Clinic, Outpatient Infusion Center, and the Emergency Department. Each dog is escorted throughout the hospital by its handler/owner and plays a vital role in the treatment of our patients.
The goals of this program are:
Minimize the stress and anxiety of hospitalization and illness
Provide warmth, comfort and sense of familiarity
Offer play and "normal-life" experiences
Provide a welcome diversion or distraction from pain, medical treatments, and daily routines of hospital
Provide opportunities for patients to feel accomplishment and satisfaction as well as encouragement to complete certain treatment goals such as walking
Encourage conversation, interaction and communication
Bring smiles
How to become a part of our wonderful volunteer team
Pet Therapy teams must be registered with the Pet Partners prior to applying for the CHOC Pet Therapy Program. These national organizations will register the team once they have passed an obedience test. If a pet handler is interested in joining the CHOC Pet Therapy Program, a team application must be submitted, followed by an interview conducted with the Volunteer Services Department. Upon acceptance in to the CHOC program, the pet owner must complete all of the necessary volunteer requirements, such as orientation classes and passing a medical test and background check.
Dogs must be at least 1 year old and handlers must have the ability to take leadership roles. CHOC is looking for teams to be outgoing and friendly, have some experience working with children, and have a professional presentation. If you are interested in becoming a CHOC Pet Therapy volunteer and you are registered with Pet Partners, please click the link below to view the job description and to complete an application.
For more information on Pet Partners, please visit its website at www.petpartners.org



Pet Therapy Job Description