Child Life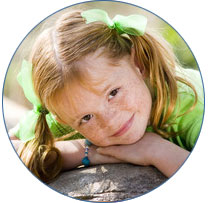 The Child Life Department at CHOC Children's strives to normalize the hospital environment for our patients and families. "Normalizing" the hospital experience is the process of making things like medical equipment, procedures and the like feel less strange or foreign. By doing this, patients and their family members can feel more at ease while at the hospital and will be able to focus on what is most important: feeling better.

This extraordinary support is provided by child life specialists who are trained professionals with bachelor's or master's degrees in the area of child life, child development, human development, or recreation therapy. Many child life specialists also receive national professional certification. Their work with patients and their families varies depending upon each patient's age, developmental level, illness and needs and can include educating the patient and family on a certain procedure, surgery or diagnosis. It can also include providing support or therapeutic interventions during stressful or painful situations. CHOC's incredible child life services include:
Pre-surgery preparation and support and operating room escorts to help both patients and families feel more at ease with the surgery process.
Therapeutic medical play that allows patients of all ages to better understand the hospital environment and their own medical conditions.
New diagnosis education and support.
Special entertainment that includes visits from special guests and entertainers, as well as entertainment broadcast from our Seacrest Studios located on the second floor.
Developmental stimulation.
Geek Squad technical support and technology lending program for patients and their caregivers.
Sibling support because when one family member is hospitalized, we understand that the entire family is impacted.
Specialized therapeutic programs including our playroom and bedside activities, pet therapy, music therapy and art therapy.
Specialized Child Life Programs
Although child life services are integrated into almost every aspect of care at CHOC Children's, our child life experts have developed a number of very specialized therapy and education programs created to meet our patients' deverse needs.
Helping Our Patients

You can help our patients by donating
NEW
toys, games, and other supplies. You can also donate cash and gift cards for the CHOC Child Life Staff to purchase items most needed for our current patients.

Click here to view CHOCO's Wish List
Child life services are available at CHOC Children's Hospital Monday through Friday, 8:30 a.m. until 9 p.m., and Saturdays and Sundays from 8:30 a.m. until 5 p.m. Child life services are availab in the Emergency Department seven days a week from 3:30 p.m. until midnight.