Careers at CHOC :: Why Work for CHOC?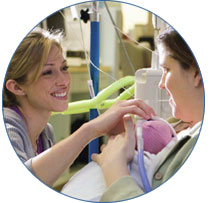 Ask a dozen staff members what they love most about CHOC Children's Hospital and you'll surely get a dozen different answers. One will say it's the incredible sense of team and camaraderie that exists in each of the units, and another will say it's the opportunity to work with amazing children and families who often stay in touch for years. A third will say it's the cutting-edge technology, making charting so efficient that more time can be spent bedside than on paperwork. But all will agree that at the end of each day there is an indescribable feeling that they are making a difference in the lives of children.

Named one of the best children's hospitals by U.S. News & World Report (2012-2013), our campus is constantly growing and offering new programs and services as we continue to meet the needs of over 250,000 children annually, making the opportunities for career enrichment endless. We offer highly competitive salary levels and benefits, but the personal growth and fulfillment you'll find here are perhaps the most valuable payouts of all. We hope you'll visit us soon to find out what you love most about CHOC.