Hyundai Cancer Institute :: Meet the Recurrent and Refractory Cancer Treatment Program Team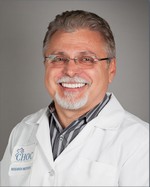 The Recurrent and Refractory Cancer Treatment Program is a multidisciplinary team of nationally recognized medical and surgical experts in pediatric oncology. The team is led by Ivan Kirov, M.D. who is a board certified pediatric hematologist/oncologist. He earned his medical degree from the Medical Academy in Sofia, Bulgaria in 1979. He did his residency and fellowship in Bulgaria where he went on to become an accomplished pediatric hematologist/oncologist for more than 12 years. In 1992, Dr. Kirov moved to the United States and became a visiting fellow in the bone marrow transplant program at the Johns Hopkins Hospital Oncology Center. He then went on to complete a residency in pediatrics at Westchester County Medical Center and postdoctoral fellowship in pediatric hematology/oncology at CHOC Children's.
Dr. Kirov is actively engaged in a number of clinical research projects and is a co-investigator in all ongoing Phase I oncology studies at CHOC. He is currently investigating effectiveness of the experimental drug in recurrent leukemia patients and is also studying defibrotide in the treatment of veno-occlusive disease of the liver after bone marrow transplants.