Hyundai Cancer Institute :: After Cancer Treatment Survivorship Program
The Hyundai Cancer Institute at CHOC Children's After Cancer Treatment Survivorship (ACTS) Program provides follow-up care and education to more than 600 pediatric cancer survivors. Our multidisciplinary team is dedicated to providing survivors with a successful and meaningful survivorship by providing them with the care and tools they need to live their lives to the fullest. We understand that the impact of cancer does not end when a patient goes into remission. Our mission is to arm survivors with the knowledge necessary to understand and take charge of their health and navigate life after treatment.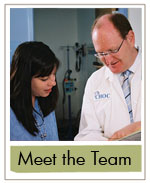 Our Services
The ACTS Program provides patients with in-depth, comprehensive follow-up visits that evaluate the patient's overall health concerns while educating the patient and his or her family about future health. Follow-up visits are multidisciplinary and patients may meet with several members of the their healthcare team at once.
Beyond the clinic, we provide educational workshops and seminars for our teen and young adult cancer survivors. Our goal is to provide survivors with the tools they need to advocate for themselves and take charge of their lives after cancer by educating them on the long-term effects of cancer treatment, fertility issues, education, employment rights and more.
Cancer Survivor Resources
Life after cancer can be filled with many questions and uncertainties. The ACTS team provides each survivor with a personalized treatment summary and a notebook with information related to their survivorship. The team has also put together a list of
frequently asked questions and answers
regarding long-term survivorship.